So, you might have read in my last post that I have been unfaithful to my flute. Yes, I recently fulfilled my lifelong dream of being a string player. There. I said it. Don't get me wrong, I do love being a flute player, but had I had the chance, it wouldn't have been my instrument of choice.
Dealing with braces as a flautist has been tricky – more so this time around as an adult trying to work as a musician, than the first time as a 12 year old who'd just started learning. I've had to re-learn a lot, constantly using new muscles every time my teeth have moved. Then there was the surgery I had last week – hello, beginner's tone. So, knowing that this year was going to be tough on my fluting, I decided now was the time to chase that dream of playing the fiddle…
At this point, I'll give a special shout out to Deirdre & Tim for lending me the fiddle (in the most amazing green mock-croc case) and Siobhan for the loan of a shoulder rest 🙂 thank you for helping me on this adventure!
Now, I do have another motive for going down this road…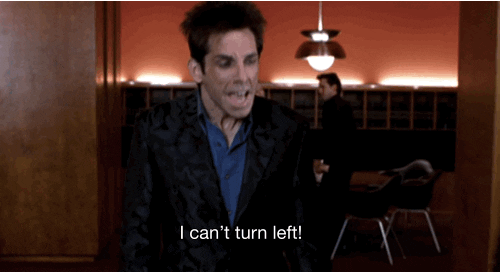 Ok, so it's not quite as bad as Derek Zoolander's predicament, but after years of playing flute and using the right side of my body, I have noticed that I'm really lacking flexibility on my left side, particularly when I try to turn (or rather, twist) left. I have also had some minor issues with my left shoulder, arm and hand, so what better way to try and remedy it than pick up an instrument that has the opposite posture to the flute?!
I'm already feeling the difference in how much more comfortable it is to hold the fiddle, and I'm pleased to say my coordination is getting better!  It's quite a different type of coordination to flute-playing, where my hands have to be in complete synchronisation – it's taken a bit of thinking to get use to anticipating the latency between my left hand fingers shifting position, and the immediacy of my bowing hand/arm, but I'm getting there.
So, now that I've started to see an improvement, I'll leave you with some light entertainment – the first of probably many nursery rhyme videos, here is Twinkle Twinkle Little Star…